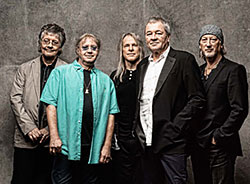 Deep Purple

UK Tour Dates

Deep Purple is a band that's been synonymous with the British heavy metal scene since the late-sixties when they, along with the likes of Led Zeppelin and Black Sabbath, helped to define the new genre. Since that time, Deep Purple have sold more than 100 million records worldwide.

Deep Purple's most successful period came in the early-seventies, when the band experienced huge commercial success with the albums Fireball and Machine Head, both of which went to No.1 in the UK album chart.

Over the years the band has gone through many changes to its line-up. With the exception of an eight-year hiatus (1976–1984), the band has toured relentlessly, playing to packed audiences across the world.