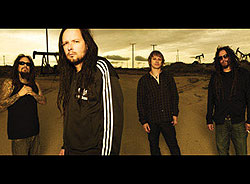 Korn

UK Tour Dates

Korn is an award winning nu-metal band from California, born out of the post-grunge period. Korn released their self-titled debut album in 1994 and immediately built up a loyal fanbase. However, it wasn't until the release of their third album, Follow the Leader, in 1998 that the Korn gained mainstream success.

Korn have sold more than 35 million albums worldwide, making them one of the most successful metal bands on the planet. They have also picked up two Grammy Awards and two MTV Video Awards.

Korn will tour the UK & Ireland in January 2015, supporting Slipknot on their 'Prepare For Hell' tour.
Korn - Tour News
Korn - Links